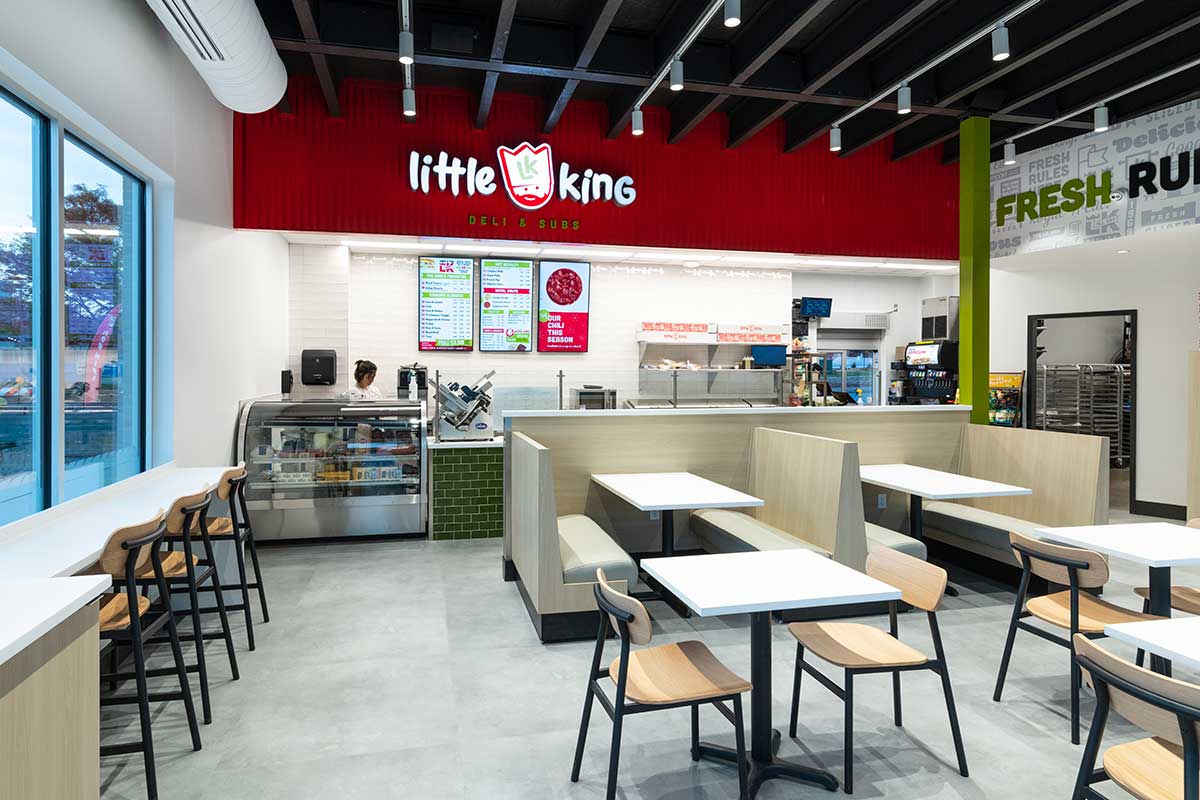 Total Customer Experience Drives Design
One of Omaha's first sub shops, Little King opened its first restaurant in 1969. Over the past 50+ years the deli, known for its 6-foot sandwiches and deli soups, has become a mainstay in Omaha. In 2021 Lockwood Development's Chip James purchased the sandwich chain with an intent to make it "bigger and better." One of his first orders of business was to open a new shop, near 86th and Dodge Streets, with fresh branding, vibrant colors and a modern design.
Having worked with JH Interior Design on other projects, Chip turned to designer Breanna Cortinas to be part of the team. Along with Lockwood Development, Breanna worked alongside advertising agency Turnpost and Stanley J. How Architects to create an engaging space that embraced James' vision.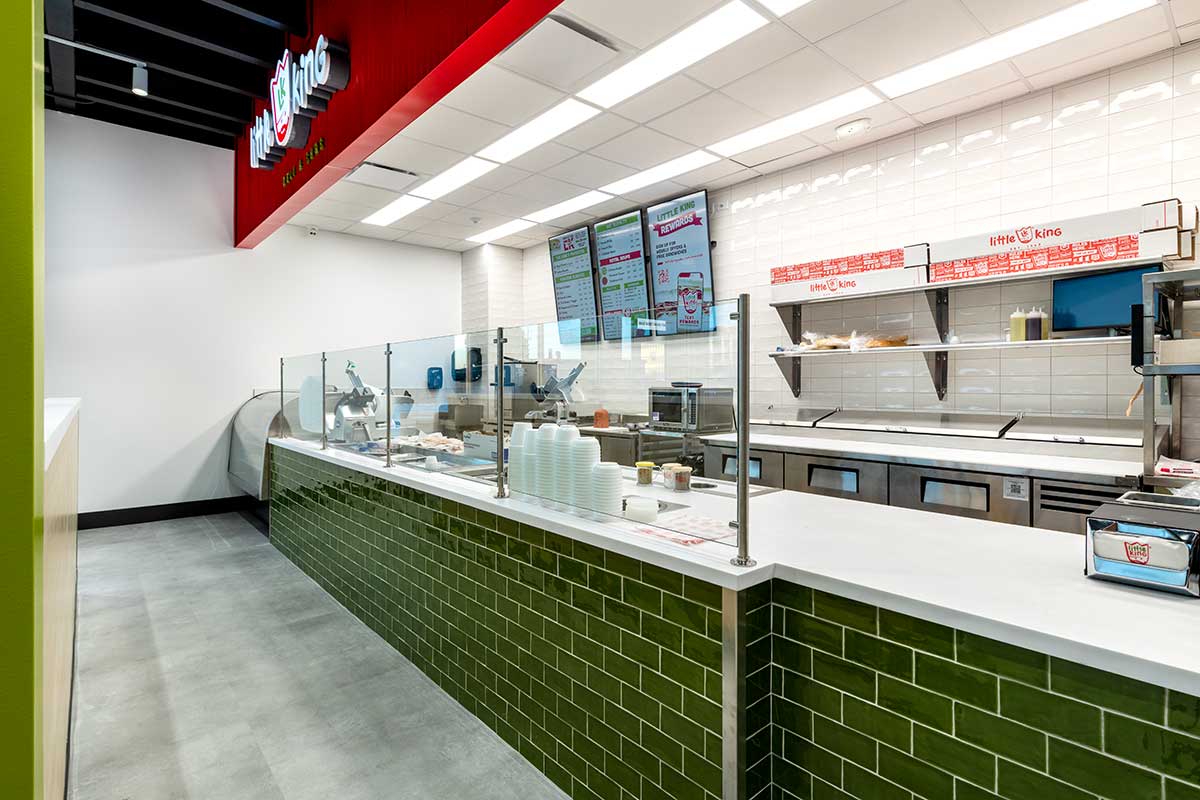 Breanna said the entire team appreciated the value of the total space, considering every aspect including the building design, interior/exterior signage and design details. They met throughout the year to review the project and crosscheck to make sure graphics, lighting and all aspects of the design were cohesive.  "We considered every detail," Breanna said. "People never want to spend money on things like bathrooms, but it's a big deal for the total customer experience."
That customer experience is evident at every turn. Breanna brought in the logo colors with a green subway tile, her favorite design aspect, and did a custom tile layout at the soda station. "I wanted to create interest in an area that's rarely interesting," she said.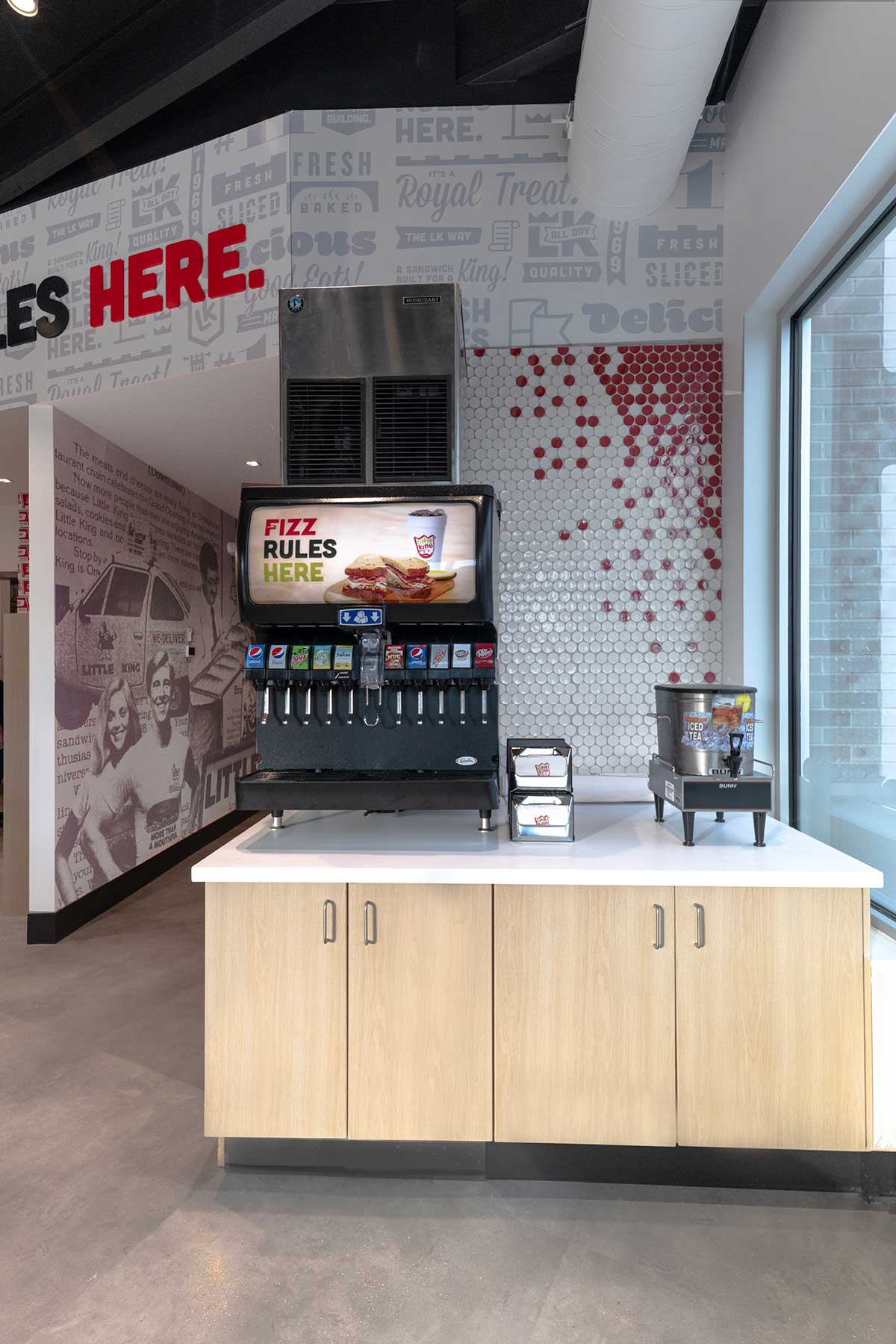 The project, which took just over a year to complete, is the first of other new Little King restaurants in the works.
Breanna said she was fortunate on the Little King project to be working with an entire team that understood the customer experience should extend throughout the whole space, and she tries to do that with all her commercial projects. She said when she approaches a project she first looks at the branding and the space itself to decide what materials are needed for function and then considers how to make it aesthetically pleasing.
Breanna has created a niche for herself at JH Interior Design specializing in restaurant/bar design. Most recently she's worked on Lyle's Pizzeria, Stories Coffee and The Winery. Contact one of our designers or Breanna directly at Breanna@JHDesignOmaha.com for more information.