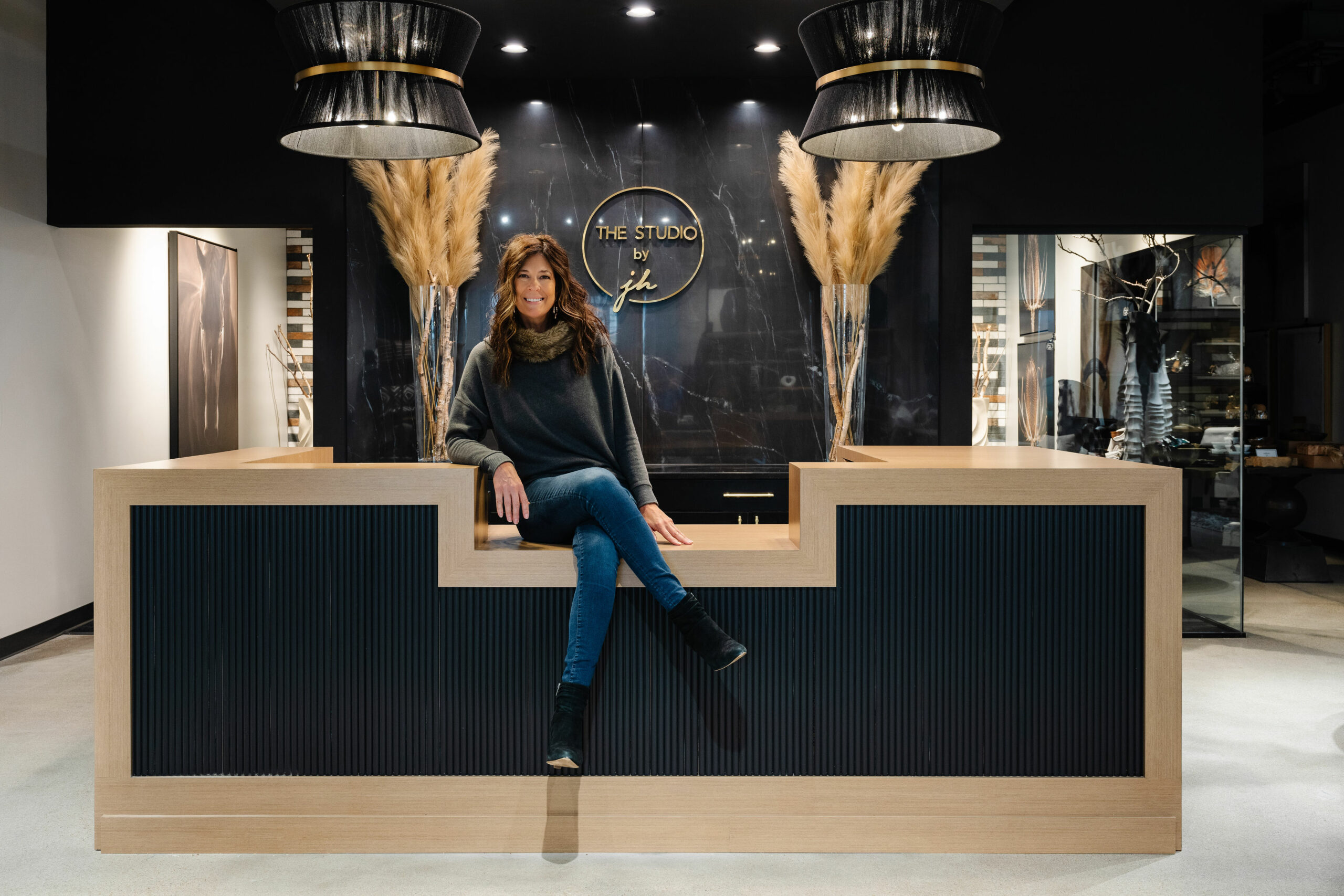 Celebrating an Anniversary with Robyn
Robyn Zandt has been an integral part of the growth of JH Interior Design. This week she celebrates eight years with the company so we're celebrating Robyn and looking back at her history with the company.
Robyn has been a designer from the start of her career, graduating from University of Nebraska at Lincoln with a degree in Fashion, Textile and Design. She was a distinguished floral designer for many years and still uses those skills in her styling work. Her career also allowed her to work with many beloved retail institutions. She was a District Visual Manager for Casual Corner, helped to open Omaha's first Sephora as an Operational Manager, and moved on to work for corporate Z Gallerie where she traveled and helped open stores around the country.
Robyn first met Julie Hockney (the JH behind JH Interior Design) when she was with Z Gallerie. "Julie would breeze into the store with a car seat under her arm, hoist it onto the counter, and shop accessories for her clients," Robyn said. "We'd all coo over the baby while she shopped. Everyone remembered her because she was so friendly and appreciative."
When Z Gallerie closed in Omaha, Robyn shifted her energy to helping her family develop Ritz Lake on their family land outside of Fremont, Nebraska. She worked on all the logistics of creating a new property with her family, and she and her architect husband still design/build custom homes on the lakefront lots.
Through a bit of serendipity Robyn met Julie again in 2015 as Julie's design business was starting to take off. With Ritz Lake underway Robyn was ready for her next challenge and Julie was looking for assistance. She hired Robyn as the third employee for her design business alongside Rachael Cavanaugh, whom Robyn had worked with at Z Gallerie. "We all meshed right away because we already had these connections."
At that time JH Interior Design was in an office alongside a hair stylist and jewelry dealer. The three businesses shared a small space with shelving where the stylist had hair products, and Julie had placed some leftover project accessories. One day Robyn did her merchandising magic and styled the shelves. Julie was amazed how it looked like a real retail store. Eventually Robyn suggested they bring in their own accessory items including pillows and art to help style people's homes. "We were running around to stores in Omaha, and nobody had what we wanted." That's when The Studio by JH was born.
"With Robyn's background in retail and merchandising it was a no-brainer to have her run The Studio by JH," Julie said. "And I'm so proud of what we have built."
The Studio is now in its fourth iteration and its own space with 2000 square feet in Clocktower Village. It shares its walls with Julie's other business, Bouquet, a floral design studio and The Winery, a wine shop and deli. Robyn has three sales associates who assist with the store, while she focuses on sourcing products and working with her own interior design clients. She also assists other JH Interior Designers with the finishing touches on their projects. "Robyn is our resident stylist," Julie said. "Our designers often bring her in at the end of projects to style their finished spaces and really wow their clients, and we always use her when we photograph our projects because she can make the spaces look their best."
Robyn's talents have flourished in her time with JH Interior Design, and she has grown the retail side into something to be celebrated.
Some of Robyn's favorites: 
Instagram follow: @KellyWearstler
Summer activity: going to the lake and just sitting by the water
Drink: Paloma with Codigo Rose Tequilla and a sprig of Rosemary
Something not everyone knows about you: I'm a great trapshooter.
Something you'd like everyone to know: The Studio by JH has a super fun vibe. Come in and have an experience like no other store in Omaha. We're approachable, and we really just want to help people create a home they'll love.
Robyn, thank you for eight great years with JH Interior Design and The Studio by JH. Here's to you!